Living Longer Living Stronger is a strength training program designed to improve the quality of life for people over 50.
It was designed by sports scientists to build muscle, improve balance and reduce the effects of chronic illness.
Strength exercises can help fight heart disease, stroke and dementia, diabetes and cancer.
It can help with pain management and falls prevention.
The LLLS program has been running for 15 years and helps up to 3500 older people per year in WA.
The program has providers throughout the metropolitan area.
The tier one program is run by exercise physiologists and physiotherapists who work with people with chronic conditions. The tier two program is run by fitness instructors who provide a preventative program for more active seniors.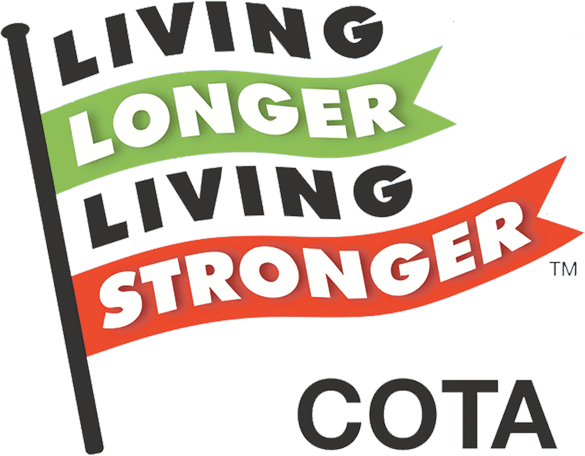 Improved balance, mobility and flexibility
Management of osteoarthritis, rheumatoid arthritis, osteoporosis, joint replacement and other musculoskeletal issues
Management of chronic conditions such as high blood pressure, type 2 diabetes,
cardiovascular disease, Parkinson's disease, cancer, chronic pain, lung disease and
Greater self-confidence and self esteem
Improved mood and sense of well-being
In February 2010, John survived a right-sided thalamic stroke and spent two months in hospital. He was paralysed down the right side and his muscles were wasting away. He was unable to do anything for himself and he could only speak a few words. John joined the LLLS program and eighteen months later, he summed up the changes.
"The Living Longer Living Stronger program is ideal for me, getting amongst people that are of the same vintage and being allowed to go at your own pace," he said.
"I have much more energy, I am more alert.
"I feel very fit, I have gained a lot of my muscle bulk in my affected side, I stay awake much longer.
"I can drive the car again, I have re-gained nearly all my arm and shoulder movements, I am walking greater distance.
"I am communicating with people at a more normal level."
John - 2011
Phyllis joined LLLS in April 2013 at the age of 75. Her balance was poor and she was worried about falls. She stumbled when she walked and shuffled slowly using a cane. She had rheumatoid arthritis, asthma, type 2 diabetes, and a kidney condition. She had also survived cancer and was described by her doctor as generally frail. Building progressively from very light weights and low repetitions, she has seen enormous improvement in her balance, gait, ability to sit and stand and lift weights.
She is able to walk unassisted. Her improved physical function has boosted her confidence, self-esteem and sense of wellbeing. She is no longer reliant upon her daughters for transport, and can drive herself with confidence and perform household tasks. This success has even inspired her daughters and son-in-law to join with her, and her referring doctor now uses Living Longer Living Stronger for his other patients.
Phyllis – 2013
Twins Peter and Gary weighed more than 115kg each and took up to 20 painkillers a day. They were depressed and said they even thought about suicide. Both had work accidents in the 1980s that caused spinal damage. They had to use gophers and walking aids.
"Life was pretty grim for us. We had lots of pain, we were really unsteady on our feet. We had developed diabetes and we were really unhappy," Peter said.
They joined the Living Longer Living Stronger program and 18 months later they were transformed.
"We were both absolute wrecks when we started but (exercise physiologist) Samantha really guided us through, inspired us and showed us the importance of long term goals," Gary said.
"We also made an effort to eat better, threw away the coke, lollies and biscuits, reduced our sugar intake and our portion sizes."
They lost 52kg between them and can walk up to 5km at a time.
Peter and Gary - 2016
Jillian went to her GP with uncontrollable muscle spasms and spasmodic pain from an undiagnosed neurological condition – alongside regular stroke symptoms such as body shaking, loss of balance, loss of feeling in her left side and inability to walk and talk. Her GP prescribed exercise and physiotherapy. Since joining LLLS her speech has improved, she has more flexibility in her knees and lower back, better balance and a more positive attitude. Her limp has been reduced, her coordination is better and she is more willing for social interaction. She has been able to hike on local trails, attend the cinema and walk upstairs unaided. Her progress has been a motivator for her peers in the program and wider community – who have noted her improvements and enormous determination to participate in LLLS.
Jillian - 2017
Pauline joined LLLS with significant physical difficulties. She was unable to walk up and down stairs or any further than a very short distance without aids. She covered less than 300 metres in a six-minute walk test. She also had significant respiratory problems and her first six months with LLLS was dogged by asthma and infections. Starting with small gains, she has blossomed in the last year. She is now able to walk unaided for long periods of time. The changes to her posture, fitness and independence have been noted by her family and friends – resulting in her husband and a close friend joining the program. She asked to be taught how to use the Arc trainer, which she could only initially use for a minute, but increased her aerobic capacity to 10 minutes in a short period. She volunteered for a peer support project at the clinic. The program has restored her physical capacity and her ability to fully participate in life, rather than watch from the sidelines.
Pauline - 2017
Lucy required an ambulance after she fell and was unable to get up. It was a huge blow to her confidence. In her initial balance test at the clinic, she refused to step over any objects for fear of falling again. She was out of condition - and even a trip to the shops would leave her fatigued. She was reliant on public transport and felt she was losing the capacity for independent living. Since joining LLLS she has trebled her aerobic capacity and her balance has improved greatly. She brings great positivity to all members of the class. She recently volunteered to tackle the treadmill, where she increased her capacity from two to 10 minutes in only three sessions. She has advocated the program tirelessly to her family, friends and other seniors.
Lucy - 2017
Isle first came In Balance Physiotherapy and Fitness in Northam to try a tai chi class to help with her stressful life. The class combined tai chi, yoga and Pilates and was designed to introduce and familiarise people with the styles. When Ilse started in November 2017 her movement was very restricted and presented with many separate injuries and medical restrictions. Ilse could not move freely because of constant pain in her back and shoulders, she had weak ankles and could not get up and down to the floor by herself. She was not confident to attempt this even with help. Her medical background included high blood pressure and cholesterol, type 2 diabetes, osteoporosis and arthritis. Ilse had lost her confidence and was feeling much older than her years. With the tai chi, a home program and gentle encouragement, Ilse was ready to join LLLS program in January 2018. Her goal was to be able to get up and down to the floor unassisted, improve her poor balance and change her quality of life. She achieved her goal in 12 weeks, getting up and down to the floor by herself. She improved her balance from level 1 to level 3 on her last assessment in August. Ilse not only is moving without pain but now attends the full yoga class and the tai chi class in the Sun tradition. Her life has changed so much in such a short time. Her passion for the LLLS program and her new passion in life is outstanding. She tells people she feels 10 years younger. At our recent LLLS birthday party, instructor Karen Newton set up three teams for games. Each team had a hula hoop. The first team to have someone hula hoop five times without dropping it would win a prize. To everyone's astonishment Ilse was the first person to achieve this. One of the members said 'can you believe you did that, look how far have you come since January.' Ilse is proving to be a very positive example to our community as well as our LLLS family. She recently began organising a LLLS team to walk for cancer next year (Relay for Life). She has been made her the team captain and is busy finding sponsorship. She was also part of the demonstration of tai chi in the park for Mental Health Week.
ILSE - 2018
Bill has Parkinson's disease. His gait, balance and body control was poor when he began LLLS at In Balance Physiotherapy and Fitness. After six months, he walks quicker than anyone and his gait is great. His balance is super, his confidence has grown and he his recovery from exercise is so much better. He has suffered from brain tumours and many other ailments but his quality of life and mental well-being has improved greatly. The biggest improvement has been his ability to chat and communicate with other attendees. He was extremely shy and shut off and now it is like he has his mojo back. He participates in all conversation and banter and really engages with all members. He has positive effect on others because he cheers them up and he always explains to others how it has made a difference to his Parkinson's disease. He talks to anyone that will listen about how he has progressed. He is a massive supporter of LLLS. His wife and daughter also participate at the gym and it has had a positive effect on all their lives.
Bill - 2018
Send us a Message
For more information about either of our clubs, send us a message and we will get back to you within 24 hours.