MEET THE
Osborne Park Team
Whether you are an active gym goer or a first time gym user, Stadium Fitness has you covered
with not only some of the best personal trainers the industry has to offer, but also a hand
selected team of customer friendly managers trained and prepared to make all your fitness
dreams become reality. Learn more about our trainers below.
Club owners
Andrew and Daniela
Andrew (aka Ando) has always loved sport, particularly basketball. He has played for 35 years and is now continuing his passion by coaching. He was a General Manager of an Earthworks company for 16 years before taking over Stadium Fitness.
Daniela is a Primary Teacher and ECU Supervisor. She has been a dedicated mother to their children, Jordan and Paris for the past 20 years. Daniela is excited to take on this new venture alongside Andrew.
Being of Italian background, family and food is very important to them…as well as health, well-being, and happiness.
They both strongly believe in making Stadium Fitness part of their family as they take on this journey together. Their ultimate goal is to create an environment where the staff and members are happy, valued, and motivated to come to their gym. Daniela and Andrew have a wealth of knowledge, passion, and dedication to make Stadium Fitness AMAZING!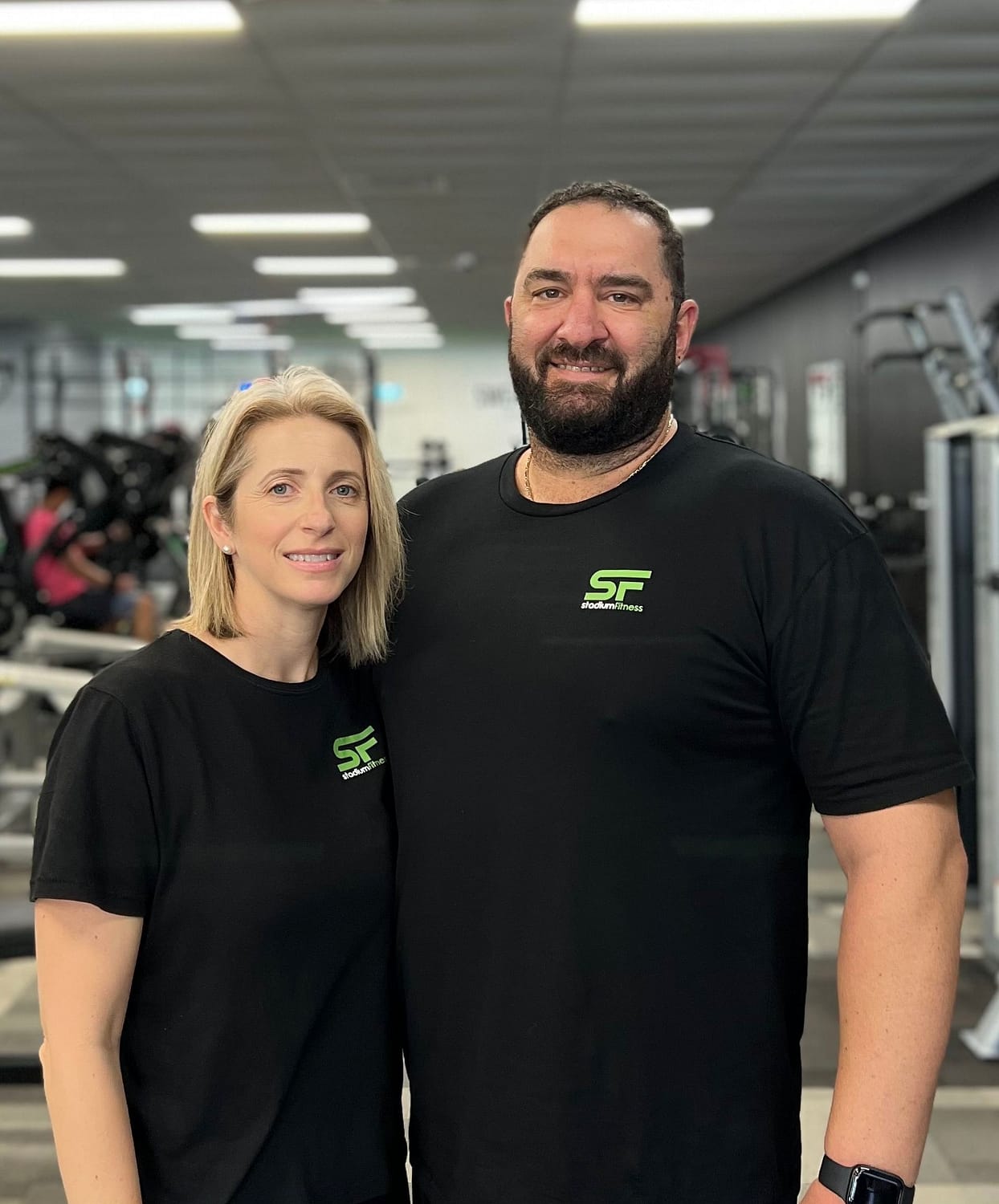 Club Manager
Cassie Butler
Cassie has been in the Fitness Industry since 2014 in both Administration and Personal Training. Her aim is to ensure that everyone at Stadium Fitness are achieving their goals whether it be the members with their fitness goals or the trainers with their business goals. She strongly believes that the gym is a safe haven where people from all walks of life should feel welcome and motivated!
Customer service
Jorja Condipodero
Jorja is currently studying a Bachelor of Commerce, majoring in Marketing and Business Law, at the University of Western Australia. As well as having a passion for business and her studies, Jorja also played tennis for 13 years which then led her to the gym. Jorja enjoys being in the gym and surrounding herself with people who a determined, motivated and driven. Health and wellbeing plays an important role in Jorja's busy schedule and she is always more than happy to support members on their health and fitness journey!
Personal Trainer
Lauren Brown
Lauren has been in the Fitness Industry for 6 years and assists her clients by educating them on what is required to develop healthy habits that will make a positive change a last a lifetime. She specialises in technique correction and education, weight loss, strength and conditioning and behaviour change.
What rocks Lauren's socks off is helping people create lasting change to better their physical and mental health, strength and general wellbeing!
Personal Trainer
Harry Brunner
Harry started training in the gym at 14. He started studying and taking part in mentorships only a year later. He has also taken part in internships where he worked with advanced athletes and has experience in both one on one personal training and group fitness classes.
His unique training methods have allowed his clients to increase their strength and muscle significantly while treating their movement patterns at the same time!
Personal Trainer
Sasha John
Sasha has been training for over two years and has quickly fallen in love with the health and fitness industry. He has a keen passion for helping clients through educating them on how to create healthy and sustainable lifestyle changes.
Sasha's goal is to help clients improve their fitness and develop their strength while also educating them on how their lifestyle choices can better their everyday life.
Personal Trainer
Eric Deinert
Eric's passion for fitness started as a teenager when he began Kick boxing. After competing at a semi professional level he decided to shift his focus to a hybrid training style implementing a mixture of gymnastics, calisthenics and power lifting. Eric trains movements ranging from handstands, muscle ups and the human flag to weighted pull up/dips, squats and deadlifts. You will see Eric training in the gym most days so don't be afraid to go up to him and have a chat. He is excited to be able to share his passion and knowledge for fitness with people of all ages and abilities and help them challenge themselves physically and mentally within the gym
Personal Trainer
Dennis Tawhiti
Dennis is an experienced trainer who's been in the industry for over 10 years! He developed his love for all things training, nutrition and mindset from an early age. He played basketball at an elite level, where learning talent wasn't enough, it came down to doing all the little things. This has translated into his approach to fitness - making sure we leave no stone left unturned while finding that balance leading a healthy, enjoyable lifestyle. Using a combination of strength training & metabolic conditioning, you'll develop a strong physique, bulletproof your joints and overall increased levels of fitness!
Dennis' goal is to help you build a strong, functional body that you love, create good relationships with food and build a healthy mindset!